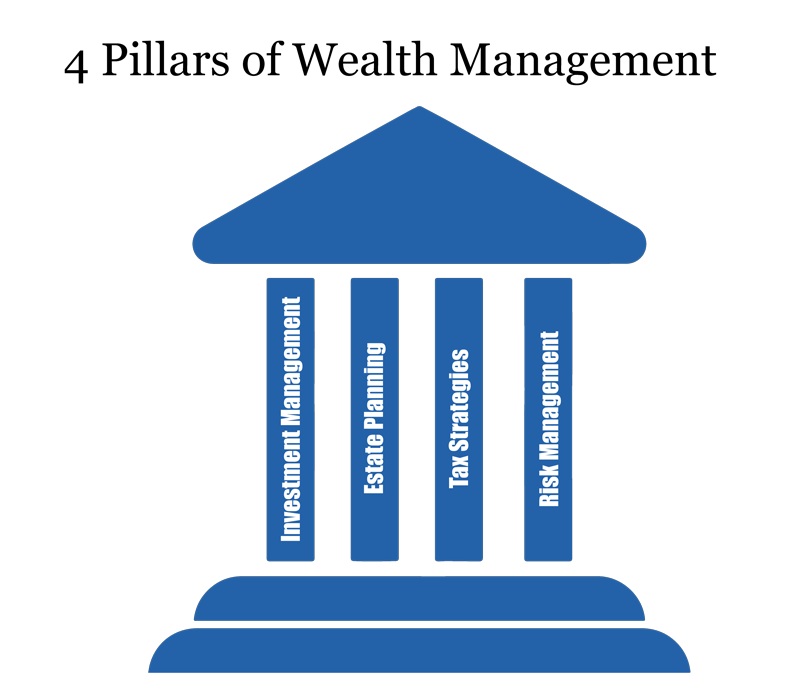 Stoddard Financial's comprehensive approach encompasses the "four pillars" of wealth management—investment management, estate planning, tax strategies, and risk management.
Get a customized financial strategy that allows you to enjoy your retirement years without the worry of financial planning. When your income exceeds your needs, your loved ones are cared for, and your estate is organized.
Investment Management
A sound investment management strategy is an integral step towards pursuing the retirement you desire. Investing should be easy – just buy low and sell high – but most of us have trouble following that simple advice.
There are principles and strategies that may enable you to put together an investment portfolio reflecting your risk tolerance, time horizon, and goals.
Understanding these principles and strategies can help you avoid some of the pitfalls that trip up some investors. Our investment management process typically differs from person to person but a few steps in the process include:
Assess Your Current Risk and Diversification
As part of evaluating a new client's portfolio, the advisors at Stoddard Financial will model the historical risk and return of their portfolio compared to one of our recommended portfolios. We can then review an estimate of past comparable portfolio risk and return in order to discuss how you want to be positioned going forward.
While past performance of any portfolio's risk and return is no indication of how it will perform in the future, it can inform us about how your current portfolio performed previously.
Provide a Custom or Model Investment Solution
We have seven model investment solutions that will accommodate most investors' appetite for risk. In addition, we can create custom model solutions. These are typically used for taxable accounts with clients bringing in a portfolio with low-basis stock. We coordinate any repositioning with your tax plan to make informed, strategic tax decisions.
Review and Monitor Your Portfolio
All fee-based portfolios, whether custom or model, will be set up with previously established "drift" parameters, meaning our portfolio weightings will not stray too far from their target which helps keep your portfolio closer to your risk preference. All clients have online access to a consolidated review of their portfolio regardless of their number of accounts.
Stress Test Your Existing Portfolio
What is portfolio stress testing? The Federal Reserve, Wall Street banks, and major hedge funds use stress testing to project potential portfolio losses due to various economic events.
We start by asking questions like: What happens if the dollar crashes? If the economy falls back into recession? Or if oil prices skyrocket? We have over 50 scenarios to consider!
Our models measure the impact of these scenarios on your investments, using history as a guide, giving you a clearer picture of the risks to your portfolio.
Estate Planning
Estate planning helps create an organized estate and is just one of the components necessary to pursuing your retirement dreams.
Effective estate management enables you to manage your affairs during your lifetime and control the distribution of your wealth after death. An effective estate can spell out your healthcare wishes and ensure that they're carried out – even if you are unable to communicate. It can even designate someone to manage your financial affairs should you be unable to do so. Our estate planning process includes:
Review Existing Estate Plan
A will, living will, health care proxy, durable power of attorney, and trust are, at a minimum, the documents everyone should consider to build their estate plan. We'll review what you have, how relevant the plan still is to you, and whether the plan may be outdated.
Attend Meetings with Attorney
Most estate plans need to be coordinated with your financial and investment plans.
It's important to us that we understand how the implementation of the estate plan needs to be carried out and allows us to help you implement your plan. By attending at least one meeting with your attorney, we'll be able to ask specific, pertinent questions that will help us help you. If you're not currently working with an estate planning attorney, we can refer one to you.
Provide Asset Retitling Services
Often an estate planning attorney will recommend assets be held, or owned, by a certain individual, trust, or entity. When assets need to have an ownership change, we can assist in that process by working with the various custodians who hold your accounts.
Review Beneficiary Designations
IRAs and life insurance have beneficiary designations. Without one, the assets go into your estate, which could mean your intended wishes will not be fulfilled. Any tax-deferred assets could become taxable immediately. We like to make sure you have at least a primary beneficiary and preferably contingent beneficiaries. The primary goal is to avoid unintended consequences of accelerated taxation, ensuring beneficiaries follow the estate planning goals (a named designated beneficiary "trumps" the will), or allowing provisions to force a "stretch" IRA on the beneficiaries. With some custodians, clients can elect to have each beneficiary receive only the minimum required by law, until they turn a certain age. You can effectively leave them an income stream until they attain a certain age, or for life, and at your discretion.
Estate planning can involve a complex web of tax rules and regulations. You should consider the counsel of an experienced estate planning professional before implementing any strategy.
Tax Strategies
Proper tax strategies are an important element of pursuing your retirement dreams.
Understanding tax strategies and managing your tax bill should be part of any sound financial approach. Some taxes can be deferred, and others can be managed through tax-efficient investing.
With careful and consistent preparation, you may be able to manage the impact of taxes on your financial efforts.
Important steps in the tax strategy process include:
Review Existing Estate Plan
A will, living will, health care proxy, durable power of attorney, and trust are, at a minimum, the documents everyone should consider to build their estate plan. We'll review what you have, how relevant the plan still is to you, and whether the plan may be outdated.
Income Tax Projections
At Stoddard Financial, we take the following quote to heart:
"It's not what you make that matters, it's what you keep."
We work with you on your income plan to withhold the correct amounts on your distributions, as well as how to take unplanned withdrawals in the most tax-efficient manner.
Proactive Tax Planning
Once an income tax projection is done, we review how your assets are currently generating taxable income and recommend changes based on your individual tax situation, your future potential tax bracket, etc.
The goal is to improve your after-tax yield. By knowing your marginal income tax bracket, both you and your advisor can make more informed tax-related decisions.
Cost Basis Recovery
Got stock? Oftentimes, our clients own stock accumulated over years of exercising stock options, reinvesting dividends, or via inheritance, yet they have no idea what the basis is for tax purposes. We help you determine your basis using your historical tax returns and an extensive database of historical stock prices and dividend payments. We provide you with a report that most CPA's will accept as documentation to prepare your tax return.
Social Security Taxability Analysis
Many people think their Social Security isn't subject to income taxes. Sometimes it isn't, sometimes it is. The fact is, up to 85% of your Social Security can be taxed. It all depends on your total provisional income.
We can run a projection for you and help you devise a strategy to minimize the taxability of your Social Security benefits.
Before taking any specific action, be sure to consult with your tax professional. LPL Financial does not render tax advice.
Risk Management
Risk management and the analysis of your insurance needs are part of the crucial process in pursuing the retirement you desire.
Insurance transfers the financial risk of life's events to an insurance company. A sound insurance program can help protect your family from the financial consequences of those events. We work with an insurance specialist to transfer risk away from our clients in order to minimize their risk.
A risk management program can include:
Review Homeowners and Auto Coverage
We know that assets need protection.
We also know that some assets are liabilities waiting to happen (automobiles, boats, etc.). In a litigious society, we believe in carrying more than the state-mandated coverage to protect you and your family.
We also believe that having a trusted property and casualty agent is important.
Our partners will review your existing coverage for suitability. They will then check to see if they can provide more coverage for a competitive price or maintain coverage for lower policy premiums.
Assess Future Health Care Costs
Stop Guessing — Start Planning!
Perhaps the most under-planned-for expense over the past ten years has been the exploding cost of medical insurance coverage.
We review what, if any, retiree medical coverage you have and project what the potential future costs are that you should prepare for. These are customized based on your current medical condition.
The assessment is a personalized estimate of retirement health care costs to help you plan for the future. It includes Medicare, out-of-pocket, and long-term care expense estimates.
Get a better idea of your expected retirement health care expenses with a Health Care Cost Assessment.
Provide Life and Disability Insurance Audits
Life insurance. Some people love it. Some people hate it. Why have it?
We believe that clients who are earning an income that others depend on should have life insurance. It's there to provide an asset that can be used to replace lost family income. Beyond that, high-income earners who save a lot can accumulate cash value in a policy that can provide tax-free income later.
Our audit provides a review of existing policies to help assess their current cost benefit. Many people have policies that were issued in the early 1990's. People are living longer, which allows policies issued today to cost less (policy owners are expected to pay less over a longer period of time). The audit takes into account current cash values, current premium costs and compares them to current rates.
Disability insurance helps replace lost income when a worker can no longer perform their job. These plans can be purchased through an employer or separately. Depending on how they are purchased, benefits are either taxable or tax-free. These plans are separate from Social Security Disability. Some disability plans also provide the option of receiving an upfront, lump-sum payment in addition to replacing lost wages.
A disability insurance audit reviews existing policy coverage and compares that to current income replacement needs.
Review Your Long-Term Care Needs
Long-term care brings different meanings to many.
There have been a lot of changes in health care and insurance over the years. The nursing home is the choice of last resort for most. Fortunately, insurance companies now provide benefits for in-home care as well as some assisted living facilities. The newest policies allow for a deposit-based insurance—an attractive alternative when interest rates have been so low for so long. We'll help you get a better idea of your expected long-term care expenses with a Health Care Cost Assessment.