6 Ways to Get Your Finances on Track
Unless you live under a rock, you know this past weekend was Super Bowl LI. Millions of people watched, and whether you're a Falcons fan, a Patriots fan (like me!) or you just wanted to see Lady Gaga at halftime, chances are you planned your entire day around it.  You may have sat for 3 or 4 hours to watch – commercials and all.
When was the last time you took that kind of time to look at your finances? If you're like many people I know, the answer is "not recently."  Their "plan" ends up being a series of financial decisions made independently, with little to no coordination.  Much like playing football, you have to know the rules, have a strategy and play both offense and defense to win your financial game.
Here are six ways to help you get your finances in order and make sure you are running full speed, fully protected toward your financial end zone:
Defense:
Know your "financial appetite" aka budget. I mentioned this in last week's post (https://www.stoddardfinancial.net/5-easy-ways-to-keep-your-new-years-resolution/) and I will mention it again because it's so important, especially if you have a level income.  There is a certain amount of money coming into your bank account each month and a set amount that NEEDS to go out.  Rent, mortgage payments, utility bills, groceries, and so on, have to be paid in order for you to have a roof over your head and keep the lights on, but what about the money that's left over?  Where is that being spent and more importantly where should it be going?  Taking a deep dive into cash flow is eye-opening.
Have the right kinds of insurance. Protect yourself. Just like the defensive line works to make sure the other team doesn't score, putting insurance policies in place can make sure that your balance sheet doesn't take a hit that you can't bounce back from. Auto, home/renters, life, short and long-term disability insurance are just a few of the protections you should have in place.  If you own a business or are in the medical field, add liability and malpractice into the mix.  Insurance may seem like a necessary evil, but when you are in a situation where those policies come to the rescue you'll be happy you paid the premium to protect yourself.  Be sure to review them at least annually to make sure you have the proper amount of coverage.
Keep six months of fixed expenses in an emergency fund. Fixed expenses are the NEEDS that I mention in #1 above. Make sure that if something were to happen such as losing your job, getting sick, or having some other unexpected setback, you have at least your monthly expenses covered.  If six months seems completely out of the question, start with one.  Just having one month of expenses covered by your savings will help give you piece of mind.  Over time work up to three months and then eventually you'll be at six as your savings habits adjust.
Offense:
Increase your income. If only it was that easy, right? But there are a few things you can do even if you have a set salary. Ask for a raise. The majority of people have never approached the subject out of fear.  Study the art of negotiating and talk to your boss about what you need and why you deserve it!  I've also seen people start a side business or get a part-time job.  Having another source of income will decrease the financial burden of monthly bills and make you less apt to blow through your emergency fund if something comes up that wasn't in your monthly budget.
Take out your opponent – Debt! Picture this scenario – you're the quarterback and you are looking to score. You take a step forward and are hit by a linebacker, pushed back to the line of scrimmage. The next play you are back up on your feet and ready to score, but before you know it, that linebacker is in your face and you are on the ground with a loss in yardage.  After several attempts you can't get past him and you have to turn over the ball.  Can't win playing like that, right? That is the equivalent impact credit card debt or any other "bad" debt has on your balance sheet.  You'll keep forging ahead and every month that payment is due, setting you back with interest continuing to accrue.  Work with a financial "coach" to figure out the best way to pay down your debt, so when you are working hard to move the ball down the field in your financial game there's nothing in your way of scoring.
Invest wisely. The best way to position yourself for a win is to protect yourself from loss. Would you rather win a game 21-14 or 70-14?  Some would say a blowout win is better than a close game, but what if it meant you had to play in a manner that drastically put your team at risk for injury?  Then maybe it wouldn't be worth it.  A win is a win and if you can get a "W" in a way that is much less risky, then go for it!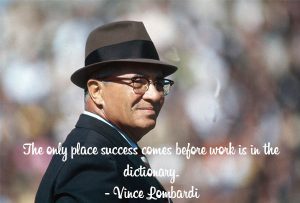 Bottom line, you must have a great defense if you want to win at football or in finance.  You can make a million dollars per year and still lose if you don't take the time to plan, strategize and execute.  You can bet Tom Brady doesn't step foot on that field during games without knowing exactly what his next move is and though things may not always go as planned he always has a backup plan, a trusted coach in his corner and continuously works to perfect his craft.
-Brilene
Questions? Great!  We love them!
Contact us at Confidence@stoddardfinancial.net
www.ConfidenceInRetirement.com
The opinions voiced in this article are for general information only.  They are not intended to provide specific advice or recommendations for any individual and do not constitute an endorsement by LPL Financial. To determine which investments may be appropriate for you, consult with your financial professional. Please remember that investment decisions should be based on an individual's goals, time horizon, and tolerance for risk.
[contact-form][contact-field label='Name' type='name' required='1'/][contact-field label='Email' type='email' required='1'/][contact-field label='Website' type='url'/][contact-field label='Comment' type='textarea' required='1'/][/contact-form]